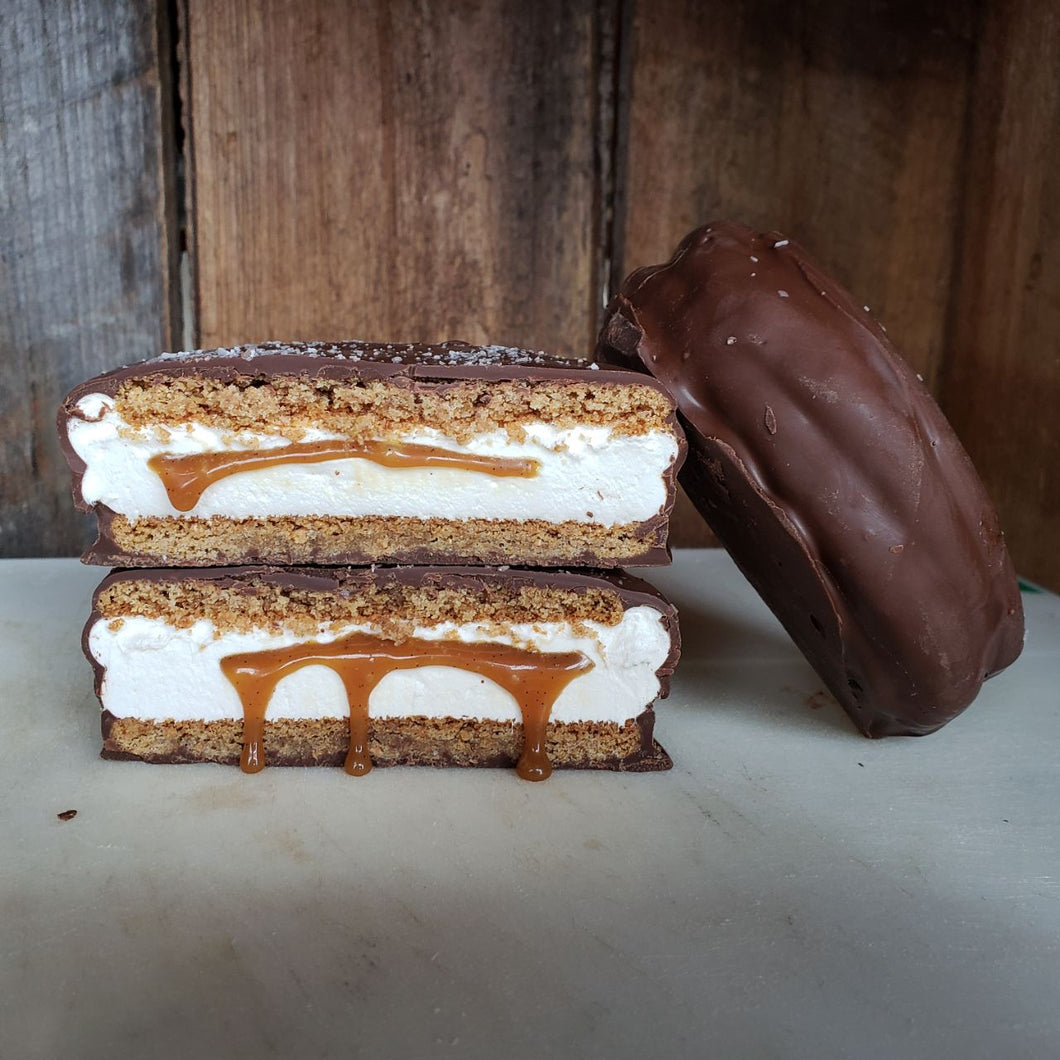 Salted Caramel S'more Pie
Scratch made graham cookies sandwich a double decker of classic vanilla marshmallow. Inside that perfect union is a golden pool of vanilla bean salted caramel.  The whole perfect pie is enrobed in a layer of chocolate. A bite of this is the quickest way to your favorite memory. 
Each order includes one (1) quarter-pound+ s'more pie
Made in small-batches.  Limited availability but unlimited enjoyability :-)
Ingredients: Mallow (Sugar, Kosher Gelatin, Handmade Vanilla Extract [Alcohol, Madagascar Bourbon Vanilla Beans], Cream of Tartar, Salt) Caramel (Sugar, Cream, Vanilla Beans, Salt) Cookie (Flour, Whole Wheat Flour, Butter, Dark Brown Sugar, Wheat Bran, Local Honey, Eggs, Cinnamon, Baking Soda, Cream of Tartar, Salt) Chocolate (Sugar, Chocolate Liquor Arriba, Cocoa Butter, Soy Lecithin)
Allergens: Wheat, Dairy, Eggs.  Gluten Free option available.
S'more Pies Will Ship 12/18.  
Gluten Free Ingredients: Mallow (Sugar, Kosher Gelatin, Handmade Vanilla Extract [Alcohol, Madagascar Bourbon Vanilla Beans], Cream of Tartar, Salt) Caramel (Sugar, Cream, Vanilla Beans, Salt) Cookie Gluten Free Flour (Sweet White Rice Flour, Whole Grain Brown Rice Flour, Potato Starch, Whole Grain Sorghum Flour, Tapioca Flour, Xanthan Gum), Butter, Dark Brown Sugar, Oat Bran, Local Honey, Eggs, Cinnamon, Baking Soda, Cream of Tartar, Salt Chocolate (Sugar, Chocolate Liquor Arriba, Cocoa Butter, Soy Lecithin)